Guam Power Authority bolsters resilience and charts path to 50% renewables
by APPA News
May 3, 2021
In honor of Asian American and Pacific Islander (API) Heritage Month – commemorated each May – the American Public Power Association's Public Power Current newsletter is proudly spotlighting the leadership roles our API colleagues have at public power utilities across the United States and at our U.S. territories in the Western Pacific. We kickoff our coverage by sharing updates from Guam, "a beautiful, tropical island with an equable climate and melting-pot of hospitable people," according to Guam Power Authority General Manager John M. Benavente, P.E. said Guam "is a modern and culturally diverse community with practically all the amenities of living, similar to elsewhere in the U.S."  He encourages you to visit Guam and "enjoy the paradise of this island territory of the U.S."
Our next feature article will highlight API public power leaders here on the mainland representing the many diverse Asian-Pacific Islander cultures from China to the Philippines, and India to Vietnam.
Guam Power Authority (GPA)
Håfa Adai. Guam is an unincorporated U.S. territory in the Western Pacific; for reference, it is located 3,950 miles west of Hawaii and 5,974 miles west of California.  A progressive Pacific island community – and a strategically important link between the U.S. and Asia – there is a critical bond between energy and Guam's economic advancement.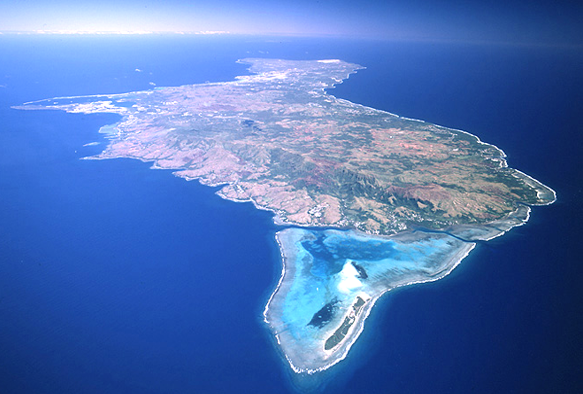 GPA supplies monopolistic electricity services, including to all U.S. military bases (the Navy is Guam's largest customer), various governmental components, and a vibrant shopping and hotel plus tourism industry.
GPA serves 170,000 people (or 52,000 customers) with a 2019 peak demand of 254 megawatts (MW). The island community has evolved significantly from pre-WWII wood, lime mortar, and stone houses with thatched or Spanish tile roofs.  Following typhoons Karen (1962) and Pamela (1976), today's businesses and homes are made of reinforced concrete with typhoon shutters.
GPA has similarly undertaken significant system hardening initiatives: power plants are constructed with concrete or prefabricated structures to withstand 180 mph winds; vital power transmission lines are underground, with 60% of system load served through underground infrastructure; over 87% of GPA's wood poles have been replaced with mono-tube, U.S. Navy-built octagonal concrete poles, and round, industry-spun concrete poles that can also withstand 180 mph wind speeds; and GPA continues its village underground hybrid system to place secondary lines (over 20%) underground too.
These investments have paid off. In September 2018, Category 2 Typhoon Mangkhut (106 mph winds) passed just north of Guam. Although 6% of GPA's customers kept power during the storm, 51% of customers were restored by the next day – and 90% by the fourth day of restoration. Additionally, over 250 stand-by generators – supplied and maintained by GPA – ensured that 99% of all customers had uninterrupted water service during the storm.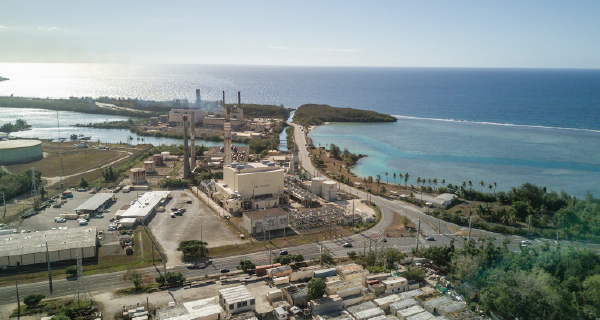 GPA employs 450 people and owns $955 million in assets, including 29 substations and 1,800 miles of transmission and distribution lines. It is governed by a 5-member Consolidated Commission on Utilities board, while the Guam Public Utilities Commission sets GPA's rates and holds oversight authority over all large GPA contracts impacting rates and charges.
GPA supports Guam's economy with both conventional fuel oil and renewable energy – currently, GPA has 25.3 MW of renewable capacity with an additional 160 MW of solar photovoltaic and 150 MWH of energy storage – which will help achieve a 25% Renewable Portfolio Standard mandate by 2024.
Benavente notes that GPA's energy had been generated by fossil fuels for five decades, which made Guam vulnerable to and at the mercy of geopolitical fuel oil challenges.  Fuel oil purchases total more than half of GPA's budget. "It is a significant economic drain on Guam's economy," he said. "By converting fuel oil purchases to alternative energy purchases such as photovoltaics, Guam is converting oil to jobs, while at the same time reducing its carbon footprint and impact on the planet."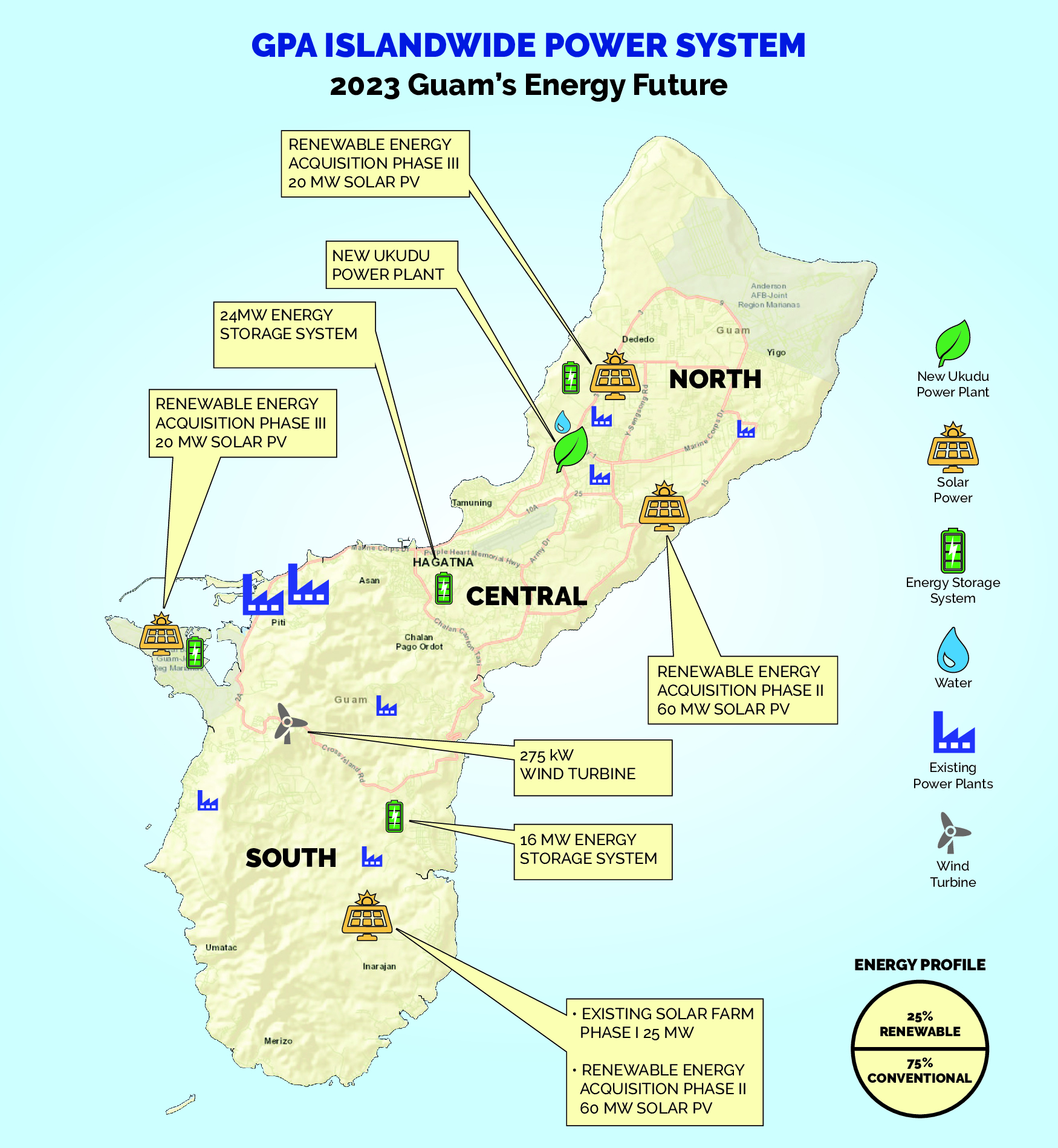 GPA has signed contracts for the construction and operation of a 198 MW combined cycle plant with a thermal efficiency of 51% that is designed to be the cornerstone of GPA's fleet.
"The plant will allow us to hedge against fluctuating fuel oil prices because over time we will continue to reduce the volume of fuel oil we use by substituting with photovoltaic energy sources.  It will work well with renewables, and, in fact, will be the backup to renewable energy to ensure continuous power to the island, in the event of non-solar days and natural disasters."
In addition, he said, "All renewables must have adequate storage systems for full capacity load shifting capability. All contracts will comprise a power purchase agreement for 25 years or more. The majority of this capacity will be utility-scale renewables, but the program would also include rooftop solar and small energy farms."
"The [new Dededo Ukudu Combined Cycle Power Plant], coupled with renewables, will allow GPA to achieve 50% renewables, most likely before the end of this decade," he added.

GPA has also been investing in Advanced Metering Infrastructure systems, upgrading its billing systems to accommodate 2,100 net metering customers, and has an ongoing Demand Side Management program to assist customers in lowering their total energy cost.
To attract and retain high quality staff Benavente explained that GPA "adopted a pay-for-performance employee pay structure, which rewards its employees and assures a competitive pay structure and benefits today, and into the future." GPA subsequently became a premier employer of choice on Guam – always drawing significant interest and numerous applicants for positions.  GPA also runs apprenticeship and other training programs.
GPA embraces the criticality in operating an island grid and working with local communities; geographic isolation presents unique challenges to disaster readiness and recovery for island communities. "From as far away as the U.S. Virgin Islands to the nearer Commonwealth of the Northern Mariana Islands (CNMI)-Saipan, GPA is committed to, and has provided, mutual aid assistance for recovery and restoration following devastation caused by natural disasters."  In 2019, GPA received APPA's Mutual Aid Commendation award for having answered the call for help and assisting the devastated CNMI-Saipan community restore power and helping to rebuild an entire island economy.
GPA has also received a Smart Energy Provider designation from APPA, and was recognized as the first electric distribution utility to operate business critical functions on the Environmental Systems Research Institute's Utility Network Data through tapping drones to digitally map power lines, poles and other hardware and help GPA with maintenance forecasting, deployment of manpower and equipment.
Within the next few years, GPA will have significantly shifted the paradigm in energy supply for customers by providing reliable energy at an affordable and stable cost and Benavente envisions that GPA "will begin the journey forward to fully underground the electrical power system within the next few decades, so that Guam becomes an even more sustainable island, less vulnerable to economic and natural disasters."
Benavente is understandably very proud of the transformation that GPA has gone through. "Over the past 53 years, GPA, through its founding employees and today's team of professionals and staff, has striven for sustainability and an ever-improving quality of life for our extremely remote island. Today, we see light at the end of the tunnel and this truly is exciting and commendable."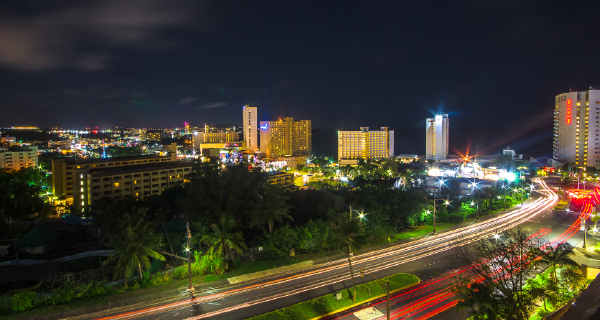 We are pleased to introduce our readers to a few of GPA's employees – some of whom you may have met at APPA events – and to celebrate their contributions to public power and our local communities during Asian American and Pacific Islander Heritage Month.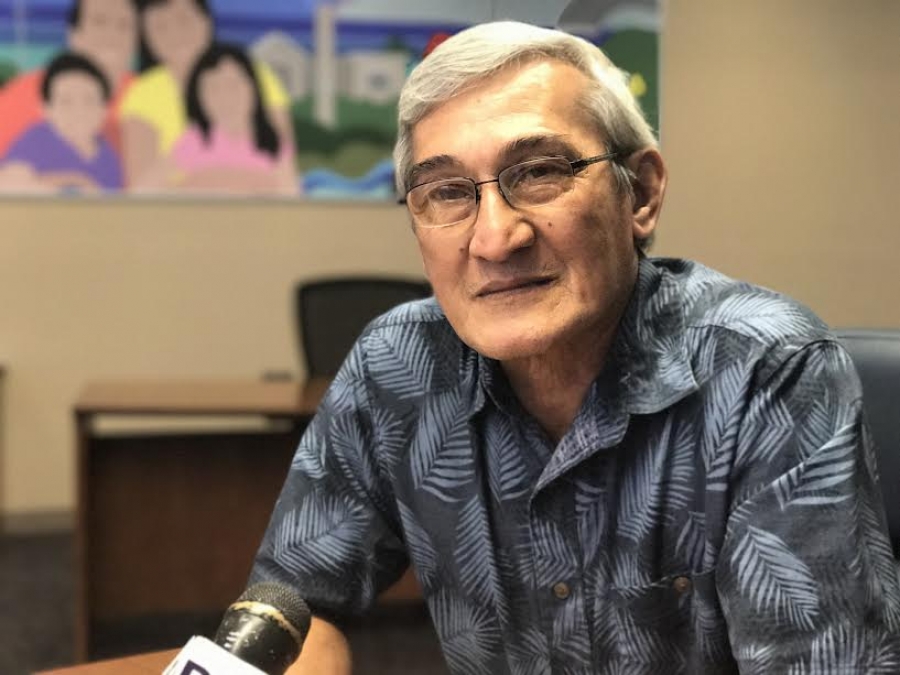 John M. Benavente, P.E., General Manager
An Asian/Pacific Islander himself, from Guam, he climbed through the GPA ranks and has held the leadership position for over 25 years.  He has expertise spanning over four decades of technical, engineering, operations and executive leadership in the power and water utility-related fields across both the government and private sectors. Benavente is a licensed Professional Mechanical Engineer in Guam. He holds a Master of Science in Engineering Management from the University of Missouri (Rolla) and a Bachelor of Science in Mechanical Engineering from the University of Dayton in Ohio.
Benavente's current efforts include addressing GPA's core value strategies of providing a sustainable energy supply for Guam, hardening GPA's grid infrastructure, workforce planning and management, building GPA's new, combined cycle 198 MW Ukudu power plant, and achieving a 50% renewable energy supply for Guam by 2030.
He is particularly proud that "GPA has consistently placed highly, in the top three safety categories for its utility workforce safety performance. Safety is of primary importance to myself and my entire team, and GPA provides significant resources and training to ensure safety first, across all areas of the power utility. It will continue to strive to perform and be ranked among the safest electrical power utilities and do everything it can to send all workers safely home to their families each and every night."
He is also proud to be part of GPA's 53-year history, "having contributed to bringing GPA to where it is today, so that Guam becomes an even more sustainable island, less vulnerable to economic, natural and other disasters."
"There is still much to do, but the good news is much will be achieved over the next several years, which will improve reliability substantially and bring energy costs to the affordable range for all customers," he added.
Benavente has served on APPA's Board of Directors since 2016, representing Region 10 that is comprised of American Samoa, Guam, the Marianas Islands, Puerto Rico and the U.S. Virgin Islands.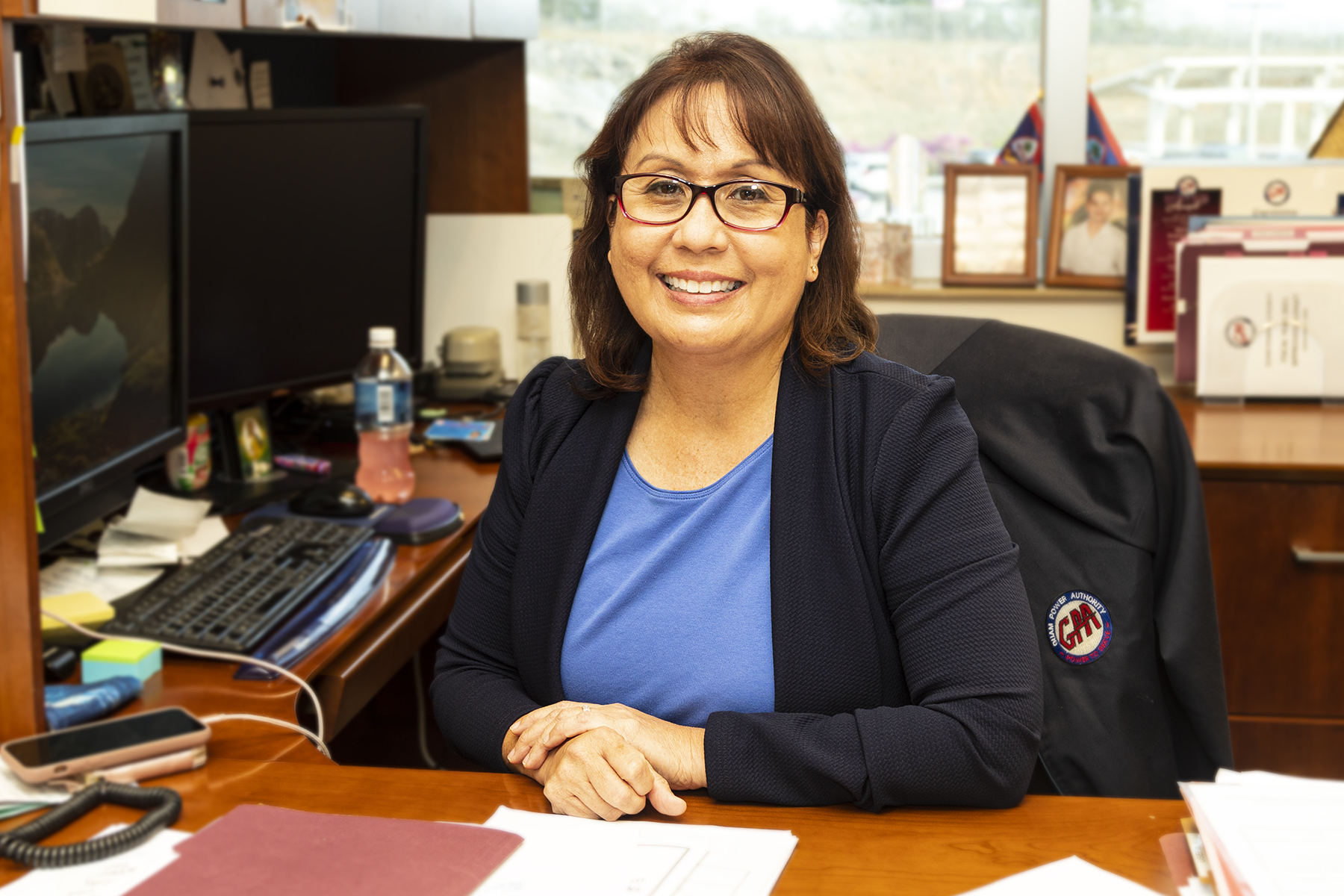 Melinda C. Mafnas, P.E.
The opportunity to learn all aspects of the power system drew Mrs. Melinda C. Mafnas to public power.
A Chamorro woman and a home-grown talent, she received her Bachelor of Science degree in electrical engineering from the University of Hawaii at Manoa and is a registered Professional Electrical Engineer in Guam with 30 years of experience working at GPA.
Mafnas joined GPA in 1991 as an engineer. "I was not limited to design work. Once projects were completed and operational, I continued to work with generation, substation, and line electricians to enhance my knowledge and grow in my profession."
She rose through the ranks, as the Supervisor of Distribution Engineering, then Supervisor of the Substation/Transmission Engineering section directing both medium and high voltage projects, and next as GPA's Manager of Engineering responsible for the overall administration of engineering-related work.
"With this continued growth, I eventually became the Assistant General Manager of Operations in charge of power generation, transmission, distribution, and dispatching" she said.
Mafnas is the first woman in that role and now manages approximately 300 employees and a multi-million-dollar annual budget.
She said two things stand out to her: "Watching the growth and development of apprentices that become journeymen and grow into leaders. Equally amazing is knowing that everyday life on Guam is made possible by the service the Guam Power Authority delivers. I find joy and accomplishment helping customers. Every person that turns on a light switch and every child doing research online or attending virtual classes can do so because of GPA."
When asked what she enjoys most about working for public power, Mafnas proclaimed, "I love my job!"
While operating an island power system is complicated and challenging by its very nature, she said that "Overcoming these challenges and providing stable, reliable power inspires me to do more. Knowing I am making a difference and a positive impact in the community is a great feeling. Power is an essential service and extending lines, troubleshooting issues, lighting up roadways, meeting the demand for power every hour of every day is rewarding. Students can attend classes, water is flowing to homes and businesses, roadways and villages are safe because of street lighting and security cameras, families anywhere in the world can communicate with loved ones on Guam through Face Time and virtual meetings because of the power GPA delivers to them."
She said the hospitality of the people sets Guam apart from other places. "Guam is beautiful. The Guam Power Authority provides a vital service to the island and as GPA thrives, so does Guam."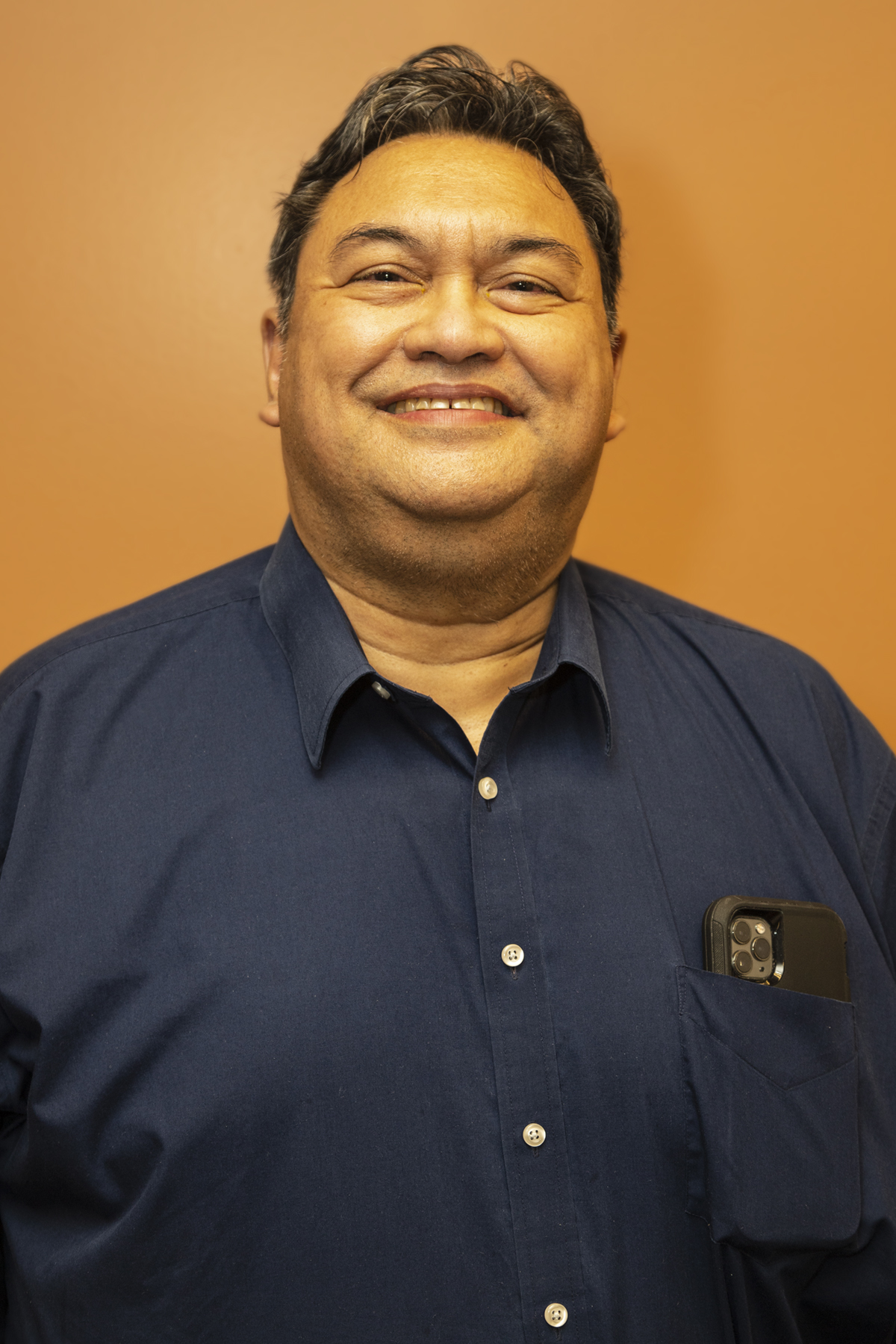 John J. Cruz Jr., P.E., CEA, CEM, MBA
Guam Power Authority's Assistant General Manager for Engineering and Technical Services, John Cruz oversees several areas currently leading GPA's transformation to a highly diversified, resilient modern power grid as well as driving its comprehensive digital transformation.
He holds a Bachelor of Science degree in electrical engineering, a Bachelor of Arts degree in mathematics, and a minor in business, from Gonzaga University in Spokane, Washington. He went on to earn a Master of Business Administration from the University of Phoenix.
Cruz has over 30 years of electric utility experience across multiple disciplines.
He began his career in 1982, working as a summer intern for GPA's Engineering Manager. "In 1991, I was on a one-year leave of absence from Hughes Aircraft Company/Radar Systems Group to fulfill a request for assistance from my parents." However, fate intervened, and he met his future wife at GPA and decided to stay. He accepted a job with GPA soon after returning to Guam.
Cruz said there were numerous, interesting challenges at GPA when he arrived. "I felt I could help solve or find solutions for some of those. Today, there are still challenges to overcome, and they are very exciting. Having joined GPA from another industry, I brought a different/external perspective on analyzing and understanding issues and the processes. As a multidiscipline systems engineer, I valued looking at things from different angles. I wanted to make a difference for the utility and in my community."
Cruz and his teams provided the seminal ideas for, and executed, several of GPA's key contracts and planning undertakings – including the acquisition of nearly $40 million of federal grants, the contracting for over 185 MW of renewable energy, and GPA's Smart Grid Program.
"We have so many complex and difficult challenges and often have to span several disciplines to get the job done. Opportunities for great learning experiences are everywhere.
GPA is transforming across so many fronts with renewable energy, battery energy storage systems, smart grid, new flexible generation, information/operations technology, customer-facing digital applications, and more. These are exciting times. We get to do this through the lens of public service, making the 'Power to Serve' motto of GPA a reality."
Cruz said that mentoring and staff development have been particularly meaningful for him. "Providing [staff] with great opportunities to grow in the engineering and technical profession. Many of the earliest employees I supervised have left Guam and GPA for opportunities on the U.S. mainland – working for CAISO, SEL, B&V, LEIDOS, and other firms. I am proud these staff attracted great offers and now work for renown mainland firms and instantly added value at the highest levels."
Cruz notes that Guam is a unique American subculture. While also enjoying American sports and entertainment, "we are a unique society with deep, 4000-year-old roots, including 300 years as a Spanish colony and 123 years as an American territory" so Asian and Spanish cultural influences still run strong.
"We are a mixture of influences, a resilient people, and we are survivors. Our ancestors braved thousands of miles of open ocean, arriving to claim a place of their own. That spirit and determination still fuels us."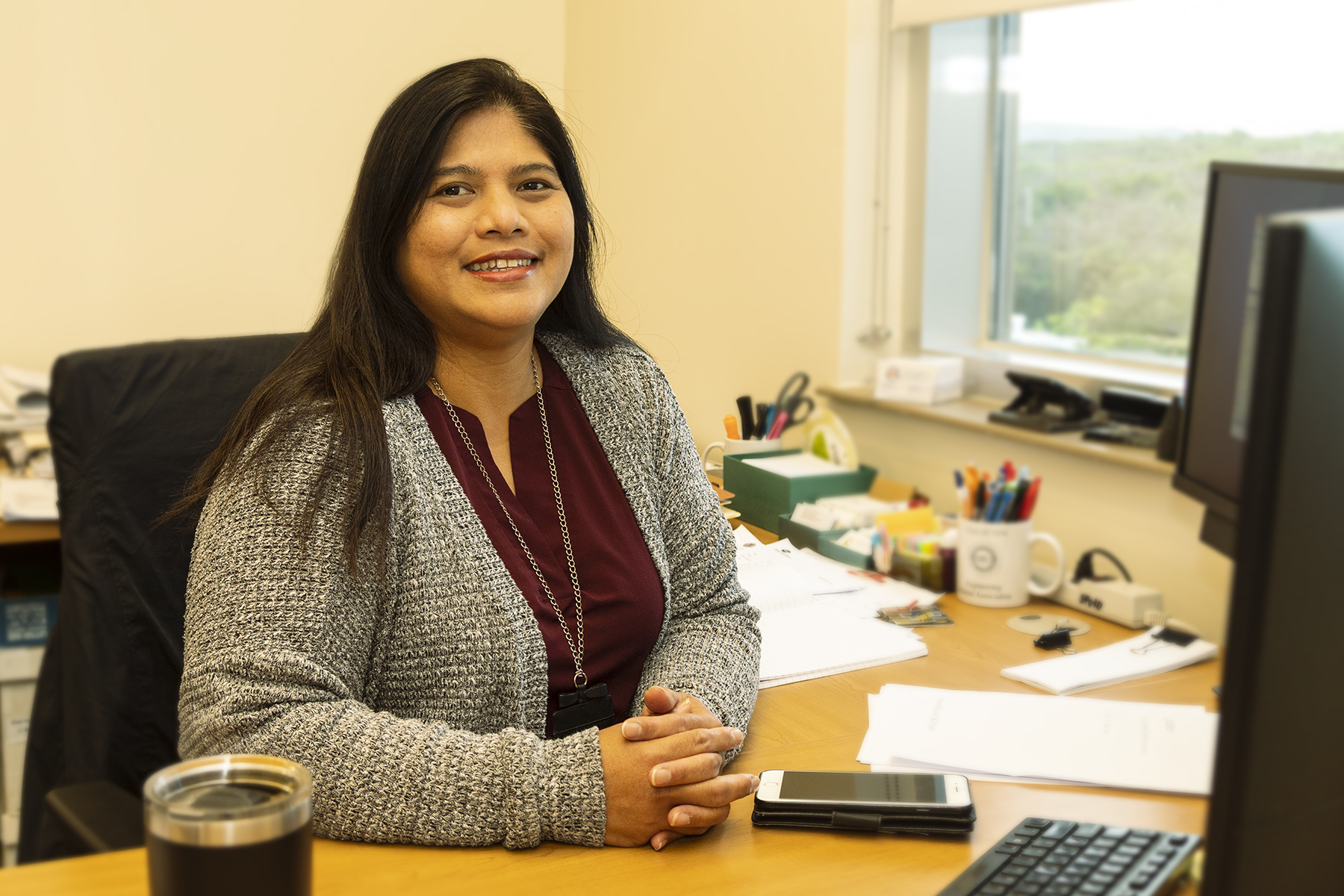 Jennifer G. Sablan, P.E., CEA, CEM
This pride in the resiliency of Guam's people continues with Jennifer Sablan, a licensed Professional Mechanical Engineer in Guam. "People who live here are capable, resourceful and supportive. We are very resilient, especially during challenging times experiencing and enduring natural disasters. In the hardest of times, our strongly rooted familial values extend toward others and you just know that you are not alone and can make it through together," she said.
Sablan joined GPA in 1995 as an Engineer I in the Generation Division, quickly engaged in the division's processes and overall operations, and rose through the ranks.
She was appointed GPA's manager of the Strategic Planning and Operations Research Division in 2017. She has 26 years of electric utility experience spanning technical, engineering, generation, operations and management.
Sablan holds a Bachelor of Science in Mechanical Engineering from Marquette University in Wisconsin and is a Certified Energy Auditor and Certified Energy Manager with the Association of Energy Engineers.
While in college her studies focused on power plants and Sablan intended to return to Guam.  Working for GPA "seemed like the natural choice. Over the years I've seen challenges and progress within GPA and the passion from others who were leaders and/or came before me to provide safe, reliable and affordable electricity for the island."  She said this influenced her commitment to GPA as her career job.
In 2005, Sablan was appointed the project lead for GPA's developing renewable energy acquisition program and integrated resource planning.
"Being part of new programs and projects that have a direct impact on our island community keeps me going," she said. "It takes creativity and ingenuity to support some of the projects we've implemented over these past years in regards to funding, technical support and execution, which has helped to develop our island's utility. It is awesome to look back at the discussions, planning and celebrations of these successes. It is also a great learning experience to bounce back from any shortcomings. I've been able to work with some great minds, continue my education especially on developing technologies, and meet a lot of people through various networking, which all support my work."
She led GPA's acquisition for its first utility-scale renewable energy contracts for a solar photovoltaic facility totaling over 25 megawatts. She has and continues to support additional utility-scale renewable energy contracts, which total over 120 megawatts of installed solar photovoltaic capacity.
Under her management, GPA's first utility-scale Battery Energy Storage Systems project was commissioned in March 2021. It supports intermittent renewable energy, improves system reliability, and reduces costs for GPA's ratepayers.
Sablan is focused on building GPA's newest, combined cycle 198-megawatt baseload Dededo-Ukudu power plant, expected to come on-line in 2023, and which will further support additional renewables, replace aging units, address compliance requirements and improve system reliability.
She is particularly proud to "provide support in developing and executing programs and projects to contribute to GPA improving its services. GPA is moving forward, and I feel proud to have contributed to its progress and successes."