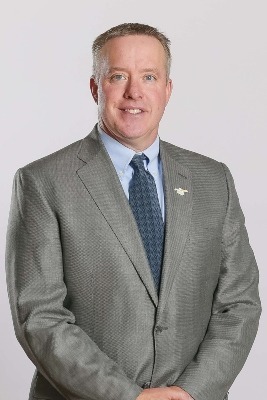 Scott Glaves, Board President
Superintendent of Utilities, Clay Center Public Utilities
Term Expires December 2025
Scott Glaves has served as Superintendent of Utilities for the Clay Center Public Utilities Commission since April of 2017. Scott started with the CCPUC in 2005 as an apprentice lineman. He holds a Bachelor of Science from Kansas State University in Criminology/Sociology and an Associates from Manhattan Area Technical College in Electric Power and Distribution. Scott enjoys spending time with his family, hunting and fishing. He and his wife Amy have two boys, Brigham and Brady.
Jason Newberry, Board 1st Vice President
Assistant City Manager for Utilities and IT, City of Wellington
Term Expires December 2025
Jason is a native of Wellington, KS and has worked for the city in various roles for over 20 years; currently serving as Assistant City Manager for Utilities and IT. Jason received his Master of Public Administration from Wichita State University and takes great pride in serving the public with a passion for local government. Jason and his wife Whitney have two children, Baylee and Easton. In his down time, he enjoys spending time with his family, hunting, fishing, and whatever project the kids come up with for the weekend.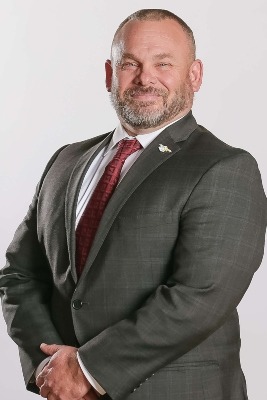 Lou Thurston, Board 2nd Vice President
Term Expires December 2024
Lou Thurston is a native Kansan. He received a degree in Public Affairs from Emporia State University. Early in his career he served in the City Manager's office in Emporia. Called away from public service to work in his family's manufacturing business, he has held numerous sales, marketing, and management positions. Currently he is employed in the label and packaging industry as an Account Executive for Grace Label, Inc. Lou has served the community of Hillsboro for many years, serving for 14 years as a board member on the Hillsboro Development Corporation and currently serving a third term as Mayor of Hillsboro, KS. Lou is married to his wife Lori. They have two children, 5 grandchildren and 4 great-grandchildren. In his spare time, he loves to travel and follow his grandkids sporting endeavors. Lou is a serious reader (his wife calls it an addiction) and loves to study US History.
Rex Reynolds, Board Member
Former City Council Member, City of Mount Hope
Term Expires December 2023
Rex Reynolds is currently the Executive Vice President at Legacy Bank in Wichita, KS. Rex is familiar and well respected in west Sedgwick County where he has spent 30+ years in banking. He and his family currently reside in Mount Hope, KS – their home for over 25 years. Rex has been a member of the KPP Board of Directors since 2016 and a former member of the Mount Hope City Council. In that capacity he has been the Electric Commissioner for the majority of that time. He also participates and supports many community initiatives and activities.
Tim Johnson, Board Secretary
Director of Public Utilities, City of Augusta
Term Expires December 2024
Tim Johnson is the Director of Public Utilities in Augusta, KS. With almost 30 years of experience in local government, Tim has served in numerous cities throughout Kansas in areas of city management, budget and finance, community development as well as in water and wastewater utility administration. Tim earned a Bachelor of Arts and a Master of Public Administration – both from Wichita State University. As well, he earned a Master of Arts from Gonzaga University in Organizational Leadership. Tim and his wife Brenda love spending as much time as possible with their four children and nine grandchildren, working in their yard, and traveling.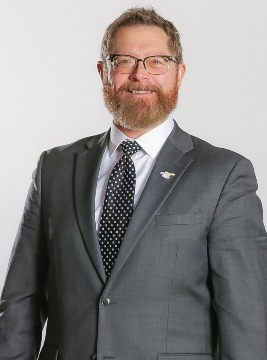 Chris Komarek, Board Member
City Administrator, City of Ellinwood
Term Expires December 2024
Chris Komarek has served as City Administrator in Ellinwood, KS since 2016 and has been employed by the City for more than 4 decades.  His administration duties are preceded by his electrical experience.  For 36 years, Chris worked in the City's electrical distribution department – 9 years as its Superintendent. During his tenure with Ellinwood, Chris has been a strong supporter of KPP serving as a city delegate to KPP's Membership Committee.  He has helped KPP formulate operating policy and practices pertaining to power supply, transmission adequacy, member services and the introduction of emerging technologies as part of the KPP portfolio. Chris recently retired from the volunteer fire department after serving for 40 years, 26 years as Fire Chief. Now, hunting and fishing are the things he looks forward to during his spare time. Chris has two boys with five grandchildren, all boys! He and his fiancé Alexandra enjoy traveling and tend to hit areas that are known to be haunted!
Gus Collins, Board Member
Director of Utilities, City of Winfield
Term Expires December 2025
Gus Collins is currently serving as a Director of Utilities for the City of Winfield, KS since August 2014. A native of Emporia, KS, Gus earned a Bachelor of Science degree in Business from Emporia State University. Prior to accepting the position in Winfield, Gus served as City Manager of Wellington, KS for eight years. Gus has over 35 years of local government experience. He has served on the KPP Board for 5 years and as the President of the Board for 2020 and 2021. His hobbies include golfing, hunting, fishing, time with family, including extended family, and watching any, and all, sport related activities.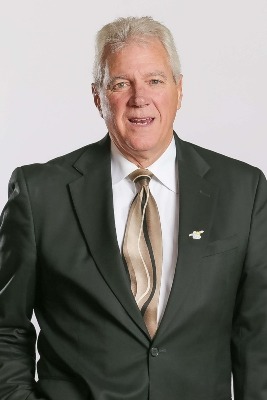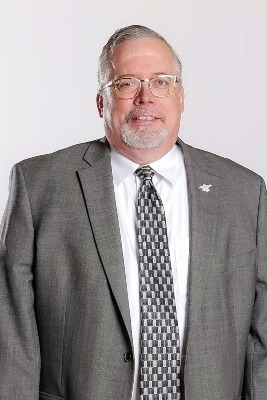 Greg Graffman, Board Member
City Manager, City of Kingman
Term Expires December 2024
Greg Graffman has been the City Manager for the City of Kingman since September 2017.  He also maintains a small legal practice in Kingman.  Greg earned his Bachelor of Science in Secondary Education from Oklahoma State University, a Master of Education from the University of Southern Mississippi, and a Juris Doctorate from Washburn University. He taught speech, debate, and forensics at Haven High School for ten years before law school. After law school, Greg moved to Kingman in 2003 and has lived there ever since. He was the City Attorney prior to accepting the City Manager position. Greg enjoys time with family, cooking, watching sports, and all things Oklahoma State in his spare time.