Gil Quiniones Resigns As President And CEO Of NYPA To Take Role As CEO Of Illinois Utility
by Paul Ciampoli
APPA News Director
October 15, 2021
The New York Power Authority (NYPA) announced on Oct. 14 that President and Chief Executive Officer (CEO) Gil Quiniones has resigned after 10 years in the role to accept a position as CEO at Illinois-based Commonwealth Edison Company, a subsidiary of investor-owned Exelon Corp.
Justin Driscoll, NYPA executive vice president and general counsel, will become the interim president and CEO. Quiniones will remain at NYPA until Nov. 5 and will work closely with Driscoll to support the transition, NYPA said.
Quiniones' 10-year tenure makes him the longest-serving president and CEO in the history of NYPA. Overall, he has been at NYPA for 14 years, serving previously as executive vice president, energy marketing and corporate affairs and as chief operating officer.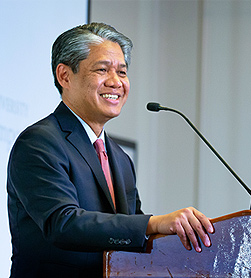 Under Quiniones' leadership, NYPA has carried out or planned a number of major initiatives to upgrade and modernize its power generation and transmission assets and has played a central role in New York State's efforts to fight climate change, NYPA noted.
The largest of those undertakings are Next Generation Niagara, a 15-year, $1.1 billion modernization of NYPA's Niagara hydroelectric project that is well underway, and the $11 billion Clean Path NY, a transmission and generation project that was recently selected by New York State in a request for proposals to deliver clean energy from upstate to New York City.  
Quiniones prioritized operational and financial excellence, innovation, resilience, strategic vision and social and environmental justice. Most recently, Quiniones ushered in NYPA's 10-year strategic plan, Vision2030.
During his tenure, NYPA has aggressively promoted the growth of renewable energy technologies, energy efficiency and electric transportation, and efforts to become one of the nation's first "end-to-end" digital utilities.
In 2017, he led NYPA in integrating the New York State Canal Corporation into its operations and has launched the Reimagine the Canals program, an effort focused on realizing the canals' potential for tourism, recreation, and environmental protection.
Commonwealth Edison provides electric service to more than ​​​four million customers across northern Illinois, or 70 percent of the state's population.