Wisconsin Public Power Utilities Rally To Help Stoughton, Wis., In Wake Of Tornado
by Paul Ciampoli
APPA News Director
March 31, 2022
Electric utility customers and officials in Stoughton, Wis., are thanking their local lineworkers, as well as those from many neighboring public power communities, for their quick response to safely restore service in the wake of a recent tornado traveling up to 95 miles per hour.
The tornado touched down for approximately five miles and was up to 50 yards wide.
"This is the spirit of neighbors helping neighbors when it's needed most," said Stoughton Utilities Director Jill Weiss. "That's what our not-for-profit, community-owned utilities are all about."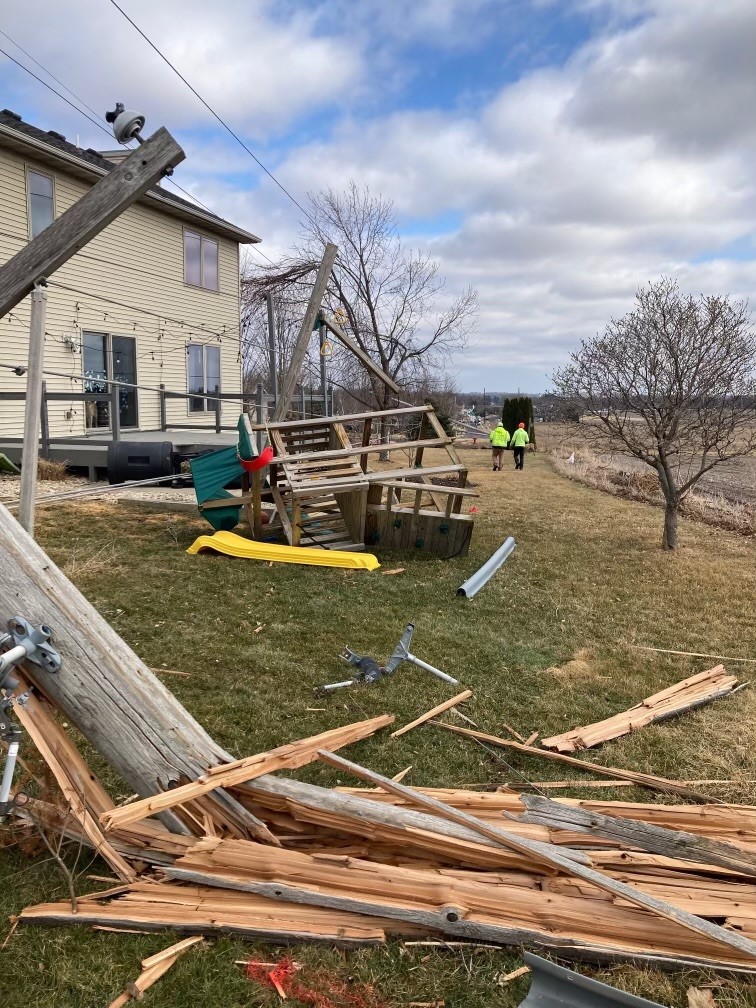 The severe storm struck the community March 5. High-speed, destructive winds — later classified as an F-1 tornado — damaged homes and buildings southeast of downtown and decimated a local family farm.
The tornado also downed nine poles on one of the American Transmission Co.'s high-voltage transmission lines that deliver bulk power to the utility, along with three poles belonging to Stoughton Utilities. More than 7,000 homes and businesses in Stoughton lost power as a result.
Through the Municipal Electric Utilities of Wisconsin's mutual aid program, public power utilities across the state assist one another to restore local electric service in the wake of major storm events.
Responding to the call for help in Stoughton were the WPPI Energy member municipal electric utilities of Cedarburg, Hartford, Lake Mills, Mount Horeb, Prairie du Sac and Waunakee.
WPPI Energy is a member-owned, not-for-profit organization that serves 51 locally owned electric utilities in Wisconsin, Iowa, and Upper Michigan.  
"The support was overwhelming," said Weiss. "I know that many other local utilities were ready and willing to jump in as well."
The lineworkers responded immediately, opening up roads, repairing power lines and restoring service.
Power was returned to all but 25 percent of customers by 4 a.m. on March 6, and all service connections were restored within 25 hours of the storm hitting the area.
"Not only do we have a highly dedicated local crew, but we are also part of something bigger," said Weiss.
"When the worst happens, and we know all too well that it sometimes does, we can lean on the shared strength of our highly dedicated Stoughton Utilities line crew, as well as our fellow public power communities, to get the lights back on for local customers safely and as quickly as possible."