Small town revitalization series – Part 3: Beautification
by Tanya DeRivi, Paul Ciampoli
APPA News
June 29, 2021
The American Public Power Association (APPA) is pleased to introduce the first in-depth, three-part Public Power Current newsletter series this week, on small town revitalization. Thank you to all the small utility systems across America who were eager to share their stories towards promoting economic development initiatives (Part 1), employee recruitment and retention efforts (Part 2), and beautification plans (Part 3). 
Part 1 of our series provided an overview of the types of projects and programs small utility systems have undertaken to promote economic development – or redevelopment – in their communities, while in part 2 of the series, public power utilities detailed their retention and recruitment strategies.
In Part 3, 0ur series concludes with efforts to beautify America's small towns and the roles public power utilities play.
Small Is Beautiful
Small towns have embraced beautification projects to enhance the quality of life for residents and to help attract tourism – many with support from their local public power utility. Utilities we spoke with have actively supported enhancements at local public spaces (including installing new LED streetlights and undergrounding infrastructure in downtown historic tourist areas), educational efforts in conjunction with local art associations, and economic development-minded beautification projects to help enhance local and regional tourism. 
Utility Artwork
Kentucky's City of Paducah – which locals call a hidden tourism gem – offers that "small town feel" within easy driving distance of the cities of St. Louis, Memphis, Louisville, and Nashville.  Affordable housing options and a lower cost of living draw tourists and many retirees to this picturesque small town with a vibrant arts and food scene. 
Paducah Power System worked with the city's parks department for an "Art in the Park" competition. 
"Twelve winning designs were selected, and the winners painted the designs on special power boxes we have installed at the park for providing electricity for our Christmas lighting event there," said Andrea Underwood, Director of Human Resources and Community Relations at the utility.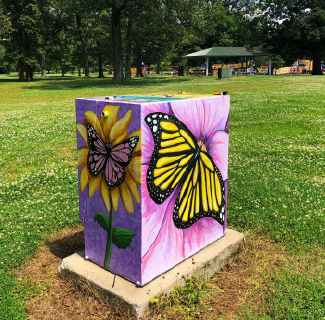 "Twice in the past five years, we've received the Paducah Civic Beautification Board's Business Award for the appearance and maintenance of our property," she added.
Streetscape Improvements
Like Paducah Power System, which partnered with the city to replace all the city's streetlights with LED fixtures, the City of Forsyth, Georgia, has embarked on downtown streetscape improvement projects too.  This includes utility box art and several downtown murals. 
Forsyth has had to increase its Façade Grant Program given the popularity of these projects amongst local businesses over the last several years. 
Recently, Tammie Pierson, the city's Economic Development Coordinator, worked with the local Historical Society to help improve their location.  She noted that "they have done a '180' on improving their building and signage.  Once the ball started rolling, they kept it going.  Sometimes you just need a little push."
Alabama's Sheffield Utilities powers a town located along the Tennessee River. 
The utility is installing LED lighting along a walking trail currently under construction and recently installed LED streetlights across the city's downtown area, the O'Neal Bridge, and in the historic "The Village" area.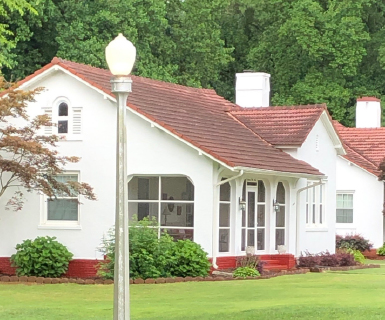 The Village, a registered national historic landmark, was constructed by the federal government in 1918 during World War I.  This unique village of 85 bungalows, a school, and officer barracks was laid out in a Liberty Bell design – complete with a roadway acting as the famous bells' crack – which housed personnel for a nearby ammunitions facility. 
It was owned by the Tennessee Valley Authority from 1933-1949 to house their employees, until the houses were sold at auction and the school and park given to the city in 1949. 
Historic Preservation
In Thomasville, Georgia, the West Jackson Streetscape project, the final element of the Creative District Vision plan, brought the Ritz Amphitheater, a community trail trailhead, and a revitalized historic district known as The Bottom. 
Sheryl Sealy, Thomasville's Executive Director of Marketing and Customer Service, said, "This has been an award-winning project that was centered on public outreach and engagement.  We are continuing to invest in this community with a history walk that highlights the historical significance of this area, which was the business district for Jewish and African Americans prior to integration." 
From the early 1900's through the 1970's, blocks of West Jackson Street were known locally as "The Bottom," at the heart of Thomasville's Black community.  At its peak, it was a mix of Black-, Greek-, and Jewish-owned businesses that formed a special, close-knit community. 
"One of the most important elements requested in the design of the streetscape was to highlight the history of the district," said Christy Owens, Main Street and Events Manager. 
"Sidewalk plaques to honor the notable businesses of the area have been installed in the 300 block of West Jackson Street, and plans for a commemorative wall and storyboards at the amphitheater are in the works," added Owens.
In Spring City, a town located in the geographic center of Utah with about 1,000 residents, the local public power system has been integral both historically to the town's lore and its financial development. 
In the early 1900's, the city contracted with a milling company to provide enough power from a small generator to illuminate candlepower lights strung down the main street – plus enough power for late night dances and wedding parties so residents could have streetlights when returning home.
During the 1930's, Spring City constructed and began operating its own hydroelectric plant that, after 90 years in operation, still meets about 20 percent of the city's normal load. 
And, in 2000, Spring City Power leased a portable, one-megawatt, trailer-mounted diesel generator to help supply California with desperately needed power during the Western electricity crisis, ultimately selling enough power to pull the city's books out of the red.
Spring City is a member of the Utah Associated Municipal Power Systems (UAMPS).
Councilmember Chris Anderson and his wife are now actively involved in the town's revitalization.  
As with many small towns, Spring City became much less visible and accessible when a local highway bypassed the town.  With a peak population of 1,150 residents at the turn of the 20th century, it dwindled to about 400 by 1970. Anderson said that as people moved away and many of the historic homes were abandoned, "there was little new construction to change the character of the hamlet.  As a result, Spring City became the best-preserved example of a Mormon Pioneer settlement." 
Spring City Power has upgraded its system and extended distribution lines – recently surpassing 600 service connections – all done within its annual operating budgets, and never having to bond or incur any debt for the city or its customers.  In 2019, it placed within the top 3% nationwide on system reliability for comparably sized towns.  
New residents later led an effort to conduct a historic survey that ultimately resulted in Spring City being designated as a National Historic District – one of only a few towns in America (including Williamsburg, Virginia) to achieve that designation. 
Anderson added that as artists and historic preservationists purchased and restored homes, the town "recognized the value of capitalizing on the historic heritage, as a way to attract visitors and provide a unique setting for our residents." As the town was rediscovered, the old homes and affordable land appealed to artists who appreciated its pastoral setting and Utah's beautiful Sanpete Valley.   
Park Improvements
The City of Thomasville, Georgia just reopened the beloved Francis Weston Park in May after completing a major renovation project there.  Improvements included a new one-third mile lighted walking track, resurfaced basketball courts, improved parking at both entrances, WiFi installation thanks in part to contributions from a local bank, and a comprehensive landscaping plan to ensure that it continues to be a destination for community gatherings. 
Sheryl Sealy, Thomasville's Executive Director of Marketing and Customer Service, said that this park is very important to the community, in particular the African American community where the park is located.  "Our community has been very passionate about the project and anxious for the renovation to be completed," she said.  "This was a multi-year project, based on public engagement to help set our master park plan.  It was a celebration for our entire community when we were able to officially reopen the park and bring these improvements to the neighborhood, who were so invested in the evolution of the project." 
Utah's Monroe City has made numerous investments in local parks and recreational facilities for the community. 
Councilmember Erica Sirrine shared how local funds have been used for new lighting at soccer fields, additional WiFi capabilities at their library and Lion's Park, splash pad additions, benches and picnic tables, bleachers for sports activities, and landscape improvements at area parks. 
She said the City will be hosting a variety of baseball/softball tournaments through September, with most new regional tournaments that had not been previously hosted in their area. 
At Lion's Park, Monroe City hosted a community get-together during the Red Rock Paraglider Fly-In, complete with live entertainment, cobbler, and guest speakers from the paragliding community.  Every other Monday through October, the City hosts food trucks, a farmer's market, and live entertainment there as well. 
Monroe City is also a member of UAMPS.
Holiday Light Displays
In Kentucky, the City of Madisonville's Electric Department was crucial in making the city's "Deck the Park" event possible in 2020.  City officials commended utility staff for the many long hours in assembling the event in a mere 11 days. 
"No matter the project, they are always willing to go above and beyond to make it happen," Sara Lutz, Public Relations Director, said. 
The event at the Madisonville City Park featured Liquid Fireworks by Waltzing Water, Inc., lights, a 30-minute dancing water show, and music while allowing families to enjoy a little holiday cheer from the comfort and safety of their vehicles at the height of the COVID-19 pandemic.  The large displays featured a 168-foot light tunnel with a bonus snow feature, Santa and Mrs. Claus, and an Elf on the Shelf sending candy to cars through a candy shoot. 
Nearly 68,000 vehicles with approximately 272,000 people attended the event – unlike anything in the tristate area; the City is already planning to have an even bigger and better Deck the Park event this year.
Parklets
ElectriCities has helped North Carolina's public power communities for over 50 years – including through their popular Downtown Revitalization Grant program, established to help localities showcase all that public power has to offer communities and residents. Project examples include downtown redevelopment studies, streetscape plans, and building reuse studies. 
Recent awardees will use grant funds for "parklets," small public green spaces or seating areas alongside former roadside parking or alley areas.
The Town of Benson, N.C. plans to use its ElectriCities grant to enhance its downtown area by utilizing an alleyway connected to a hub of activity in the area including the library, museum, and business district.  The plan is to create a social space in the alleyway that encourages visitors to sit, visit, enjoy a meal, take photos, and take in all that the downtown has to offer.
The grant will help fund beautification efforts including resurfacing the alleyway, installing traffic barriers, seating and art installations, and installing both decorative and safety lighting.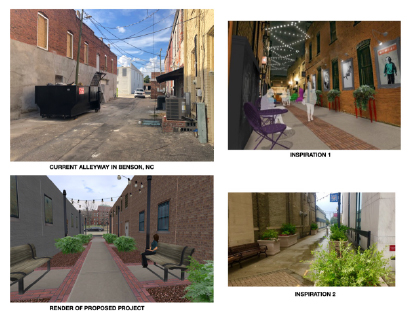 The City of Monroe, N.C. plans to enhance its downtown area by creating a more permanent parklet structure made from trex decking, aluminum-alloy canopies, and Keystone Ridge seating.
The goal is to place the parklet in the general vicinity of restaurants, allowing restaurants and other local businesses to benefit from the installation.
In total, the parklet will create 16 seating opportunities for visitors in the downtown area and allow restaurants and businesses to extend their storefronts.