Small town revitalization series – Part 1: Economic Development
by Paul Ciampoli
APPA News Director
June 29, 2021
Part 1: Economic Development 
The American Public Power Association (APPA) is pleased to introduce the first in-depth, three-part Public Power Current newsletter series this week, on small town revitalization. Thank you to all the small utility systems across America who were eager to share their stories towards promoting economic development initiatives (Part 1), employee recruitment and retention efforts (Part 2), and beautification plans (Part 3).  
Of America's nearly 2,000 public power utilities, a vast majority of them are considered "small."  
Colin Hansen, Chair of APPA's Board of Directors and Executive Director of the Kansas Municipal Utilities (KMU), is proud to represent the 116 (out of 118) KMU members that serve small towns. Indeed, since most public power systems do, it would be fair to say that when small cities and towns thrive, so does public power. He said, "Our large systems – from Seattle City Light and LADWP to Santee Cooper and JEA – are often looked to for the amazing work being done to uplift public power communities.  I want to thank them for being innovative industry leaders. I also want to shine a bright spotlight on the truly incredible things our small public power systems are doing in the hope that we can all learn from each other. There are many small systems across the country that demonstrate the progressive thinking and a kind of grit – hidden only by their size – that truly defines all public power systems: unique, visionary, dedicated, and resilient. These are just some of their success stories."   
Part 1 of our series provides an overview of the types of projects and programs small utility systems have undertaken to promote economic development – or redevelopment – in their communities. From fiber deployment to free electric vehicle charging stations in downtown areas to business incentive programs and active marketing of what their small towns, and public power, can offer.
Kentucky
In the Bluegrass State, Barbourville, Ky.'s economic development activities include "Blink," Barbourville's Gigabit Link. Blink delivers 50 Mbps, 100 Mbps and even 1 Gigabit speeds and can handle up to 5 simultaneous HD signals into the home. Businesses will have a speed and data capacity advantage few rural communities offer today, the utility notes. Barbourville Utilities is a member of the Kentucky Municipal Energy Agency (KYMEA), a joint public agency formed in 2015 to assist with collaboration amongst 11 members utilities.
In Frankfort, Ky., the city's utility has been providing rebates to customers during the COVID-19 pandemic and is continuing to do so this year, noted Michelle Hixon, Director of Administrative Services and Communications at KYMEA. The Frankfort Plant Board (FPB) is KYMEA's largest member.
 
Meanwhile, FPB partnered with the city to deploy electric vehicle charging stations. FPB "invested in their community by providing several charging stations near the downtown area," KYMEA notes in its 2020 annual report.
"Not only do these locations allow for the community to charge their vehicle as they visit downtown for business, shopping, eating, or visiting the park; the charging stations are provided free of charge from the City of Frankfort. Parking and charging for an hour or two can provide as much as 50 miles of range which is more than enough for everyday driving needs. It's a fantastic way to draw tourism and economic growth to Frankfort's charming downtown atmosphere," KYMEA reported.
Cathy Lindsey, Director of Marketing and Communications at FPB, said that for more than 77 years, FPB "has powered the Franklin County community with the most valuable resources essential to enrich the quality of life – electricity, water, cable, internet and more. As neighbors serving neighbors, FPB strives to provide these services in a way that fosters the community to thrive and grow. After all, the community members are our customer-owners," she said.
The priority is to ensure low and stable rates, she noted, which is why in 2019, FPB switched its power supplier from Kentucky Utilities to KYMEA. 
"The savings began immediately. Since that time, we have had no electric or water rate increases with none planned in the near future. Our decrease in wholesale power has enabled FPB to issue annual rebates to customers. This means FPB has returned $3.2 million to customers since 2019 and plans another rebate this year of $1.6 million. These are huge incentives to recruit new business and industry to our community," she said.
"While we have long offered fiber connections to businesses and schools, FPB has invested in an extended fiber-to-the-premise infrastructure that will improve broadband services for both business and residential customers. We are partnering with the local government to promote the new service and the city's new remote worker incentive program. This next-generation system is another boon that will attract growth in our community," Lindsey said.
"We take our role as a public utility very seriously. That's why in addition to major projects, we focus on programs that will improve life for our customers. This includes water fountains in parks, free wi-fi zones, EV charging stations and college scholarships. Our customers deserve these benefits of a locally-owned municipal utility," she said.
Elsewhere in the Commonwealth, in the early 2000's, Paducah, Ky., updated its connectivity between substations with a fiber optic network which is used as a fiber backbone for local internet providers. "We directly serve our hospitals and schools, allowing them better connectivity between medical facilities and making it easier for the schools to download curriculum," noted Andrea Underwood, Director of Human Resources and Community Relations, at the Paducah Power System.
"For the past three years, we've provided free wi-fi to the community's new Sprocket Innovation Hub, an incubator for creating new businesses and jobs in the community. We recently announced we will continue to do that for the upcoming expansion of Sprocket. Last year, we also worked with our public housing authority to make sure their housing sites had wi-fi service that allowed youth residents to do their virtual learning during the pandemic," she said.
Nebraska
In 2020, the Nebraska Department of Economic Development (DED) announced the City of Kimball (population 2,360) as a new member of Nebraska's Leadership Certified Community (LCC) program. 
Kimball became one of 29 Nebraska communities to qualify for DED's LCC program, created in 2011 to help villages and municipalities adapt to ongoing changes and opportunities in economic development. Certified communities must demonstrate an understanding for and preparedness in strategic planning, and display readiness in technological development to help new and existing businesses grow. Qualifying LCC's earn status in the program for five years and are required to maintain community websites to market local development, which may include information on available sites and buildings and regional employment opportunities. This is the City of Kimball's first certification in Nebraska's LCC program.
"Over the past year, the city has invested nearly $1 million in its business incentive programs," an August 2020 news release noted.  
Kimball's Local Option Municipal Development Act (LB840) loan program authorizes incorporated cities and villages to collect and appropriate local tax dollars for economic development. The funds assisted in the redevelopment and renovation of a premier full-service RV park, High Point RV Park, which includes showers, a store, and 15 full RV hookups. High Point RV Park has plans for expanding their business plan and RV spaces. 
Other businesses within the city who have utilized loan assistance include: The Sagebrush LLC, which includes a restaurant, lounge, and 400-person event area and Karen's Kitchen, a family restaurant which offers home cooked meals from the menu and daily specials.
Another LB840 incentive is the City of Kimball's Infrastructure Improvement Grant Program, which provides up to $15,000 in assistance for local business owners who invest in ADA compliancy, energy efficiency, electrical or plumbing updates, or building code improvements. 
Georgia
Public power communities in Georgia are also involved in a wide range of economic development activities.
For example, Thomasville, Ga., has invested in two electric vehicle charging stations for public use, which are available free of charge. Their hope is that this encourages people who may be close to Thomasville to consider detouring for a charge and to spend some time downtown. "They have been very well received," said Sheryl Sealy, Executive Director, City of Thomasville, Marketing & Customer Services. "It is our way of bringing visitors to our downtown to experience all we have to offer."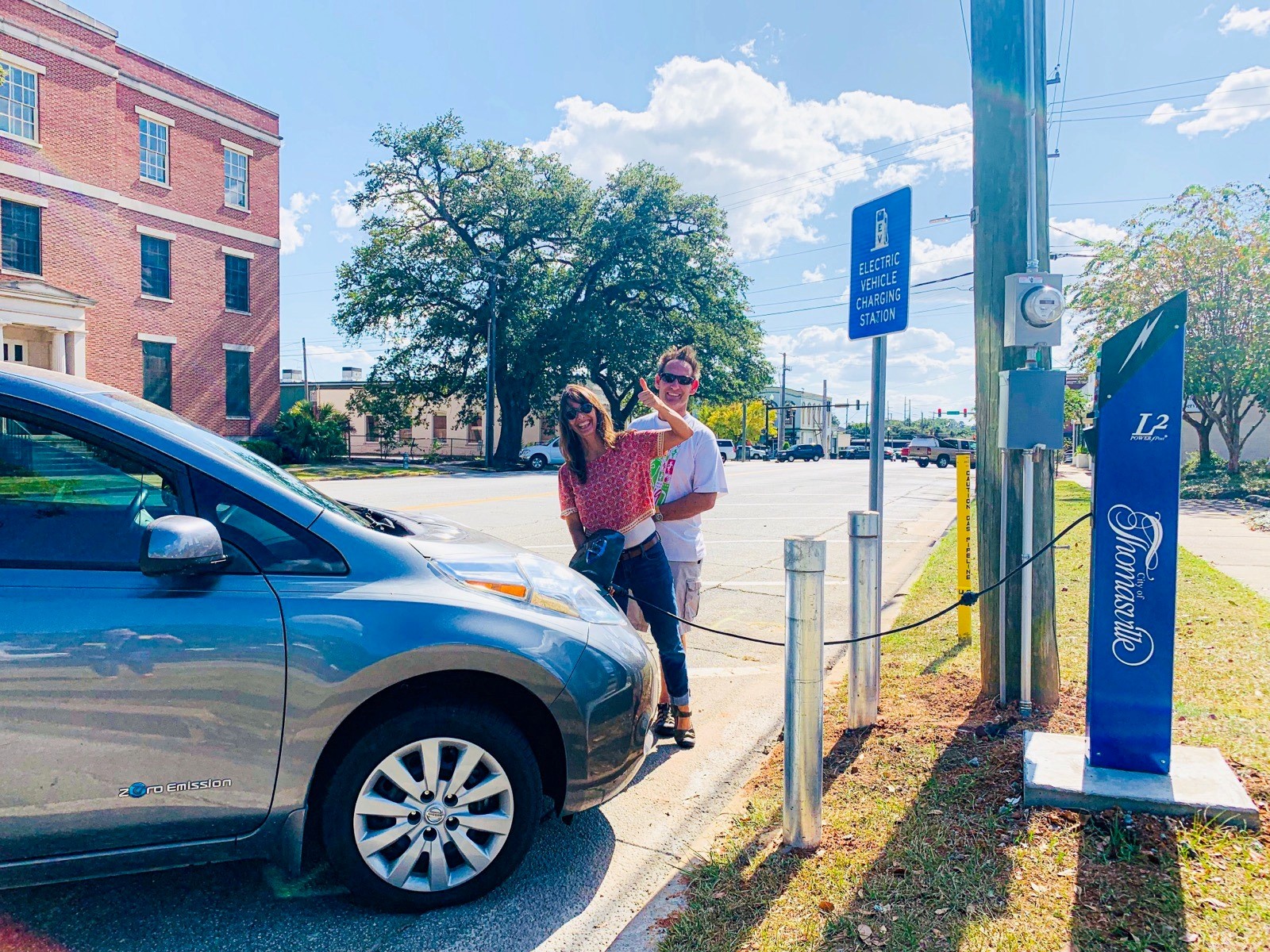 The City of Thomasville has had initiatives throughout COVID to help the community avoid homelessness and other situations that may result from a loss of income.  "We concentrated efforts on our Project Share, which allows customers to add a contribution to their utility bill to help their neighbors," Sealy said. "We also partnered with a local non-profit to administer a relief program that is funded by money the city received through the CARES Act."
Elsewhere, the City of Forsyth, Ga., has seen a lot of growth in the last couple of years.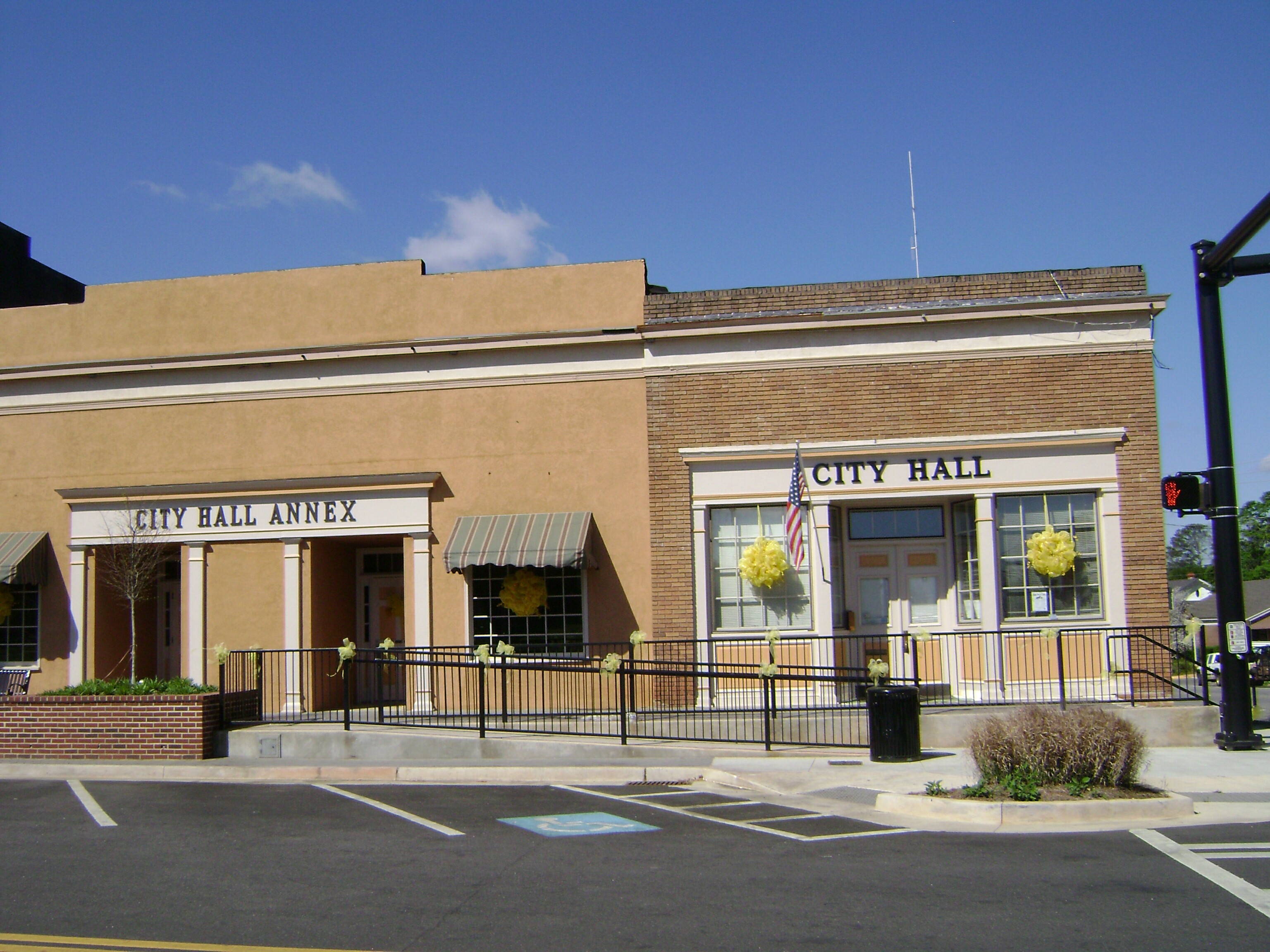 For example, Forsyth Main Street and the Downtown Development Authority are working to promote, revitalize, and beautify the Central Business District to make Forsyth the thriving hub of the community. Through these efforts, there will be an encouragement of retail and professional business growth.
Forsyth Main Street awarded 12 Façade/Sign Grants in the amount of $16,212 in 2020. Within the downtown area, several new businesses opened in 2020 and the City of Forsyth had over 30 new business license applications in 2020, noted Tammie Pierson, Economic Development Director for Forsyth.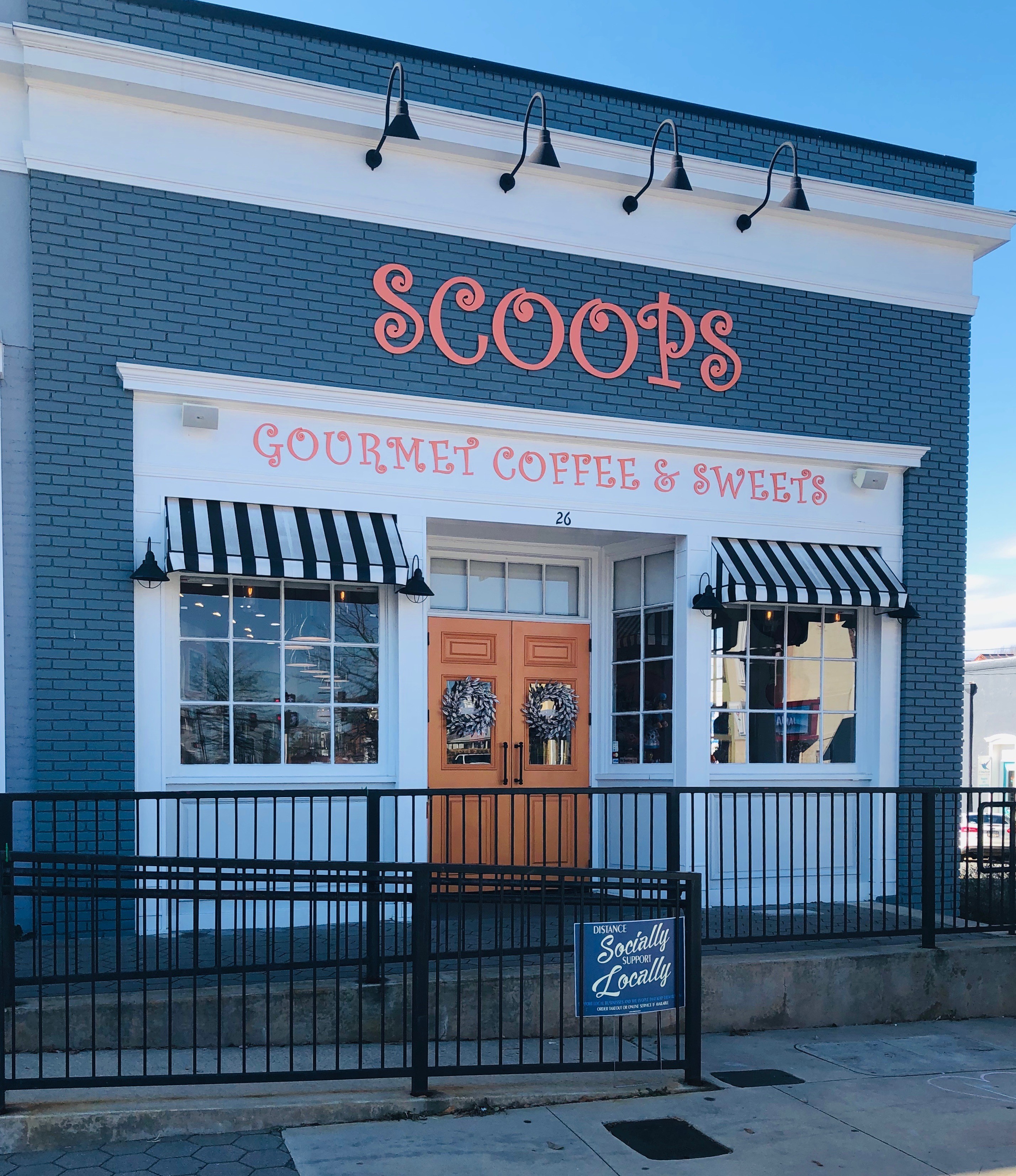 Tennessee
Mark Kimbell, General Manager at the Gallatin Department of Electricity (GDE) in Tennessee, noted that GDE has invested in its system to help attract new customers. "We have also deployed fiber around town to provide backhaul for new customers and improve connectivity."
With respect to fiber, he said while they do not intend to offer fiber to homes, "We intend to use dark fiber as an economic development tool to recruit new customers, and to work with the city and county as their needs go." 
GDE recently finished a fiber loop project for its own resources (SCADA to substations). "We have a hardened substation house several miles from our office that we use as a backup, for our redundant systems."
Harriman Utility Board (HUB) in Harriman, Tenn., detailed its economic development accomplishments in its 2018 annual report. "Researchers and Site Selection Groups seem to agree that the Southeastern United States is the most competitive region of the country for business investment. One vastly underrated reason why is the availability of well-organized and well-funded power companies," the report notes.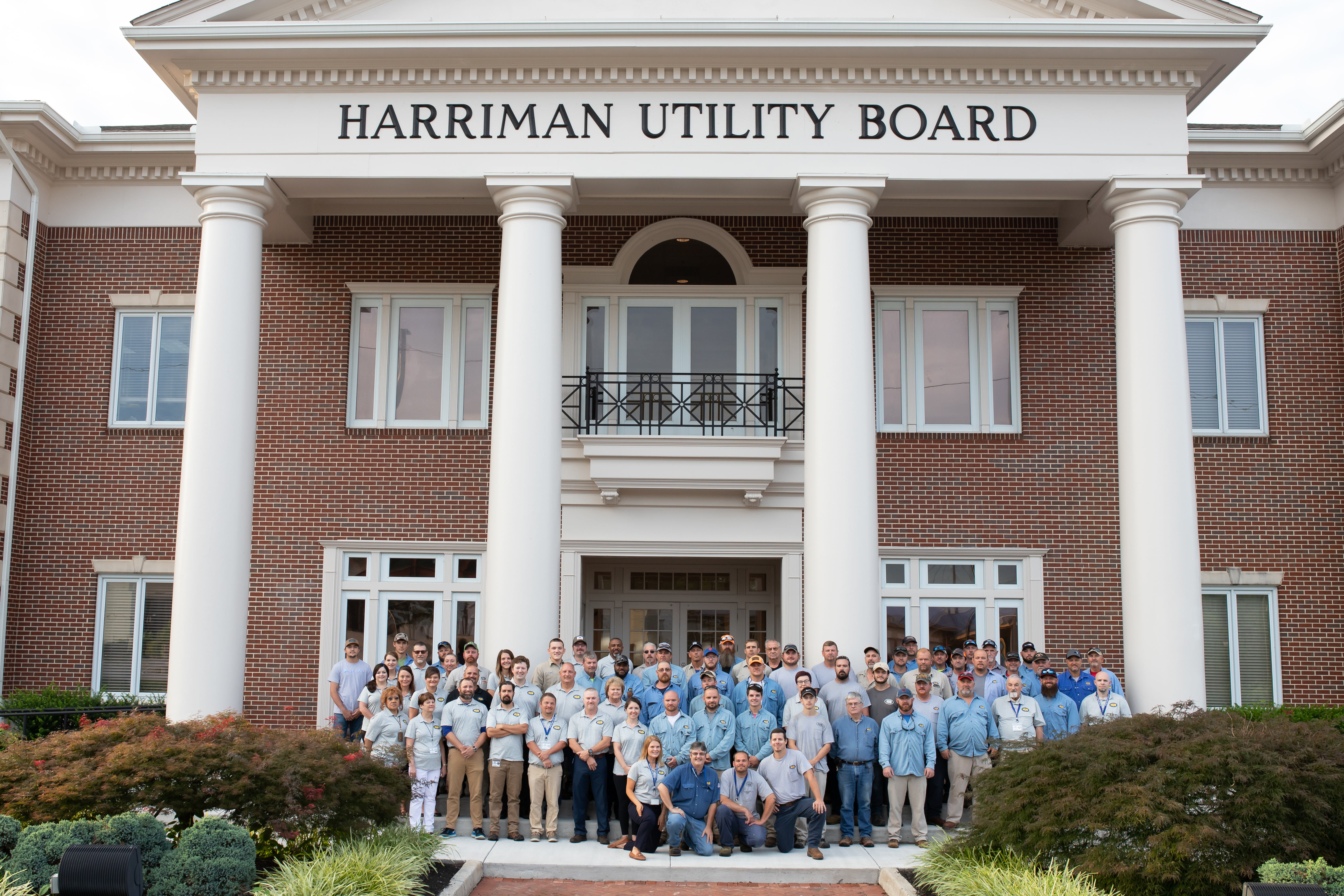 Tennessee has been increasingly successful in receiving new and expanded business/industry investment in recent years, the report said. The Tennessee Valley Authority "is just one reason why we have a competitive advantage. By partnering with our local and State economic development agencies and the TVA, we will encourage growth and development in our service area and that which surrounds it. From an availability and reliability of utilities perspective, we will identify and tackle issues which may be deterring business from our area. In addition, we will invest in social improvement. We will grow our presence at public events, schools, and civic groups. We will educate our customers and key stakeholders on the value of public utilities and focus on safety and reliability of our services."
Meanwhile, HUB recently completed moving HUB's main headquarters to an old bank building.  "It's actually getting more common to see local utilities take over former bank buildings, as the banks are looking to downsize, and the utilities are looking for similar building layouts to serve their customers. Several nearby utilities are going through similar building projects right now. Some are like us, lucky to have a low cost, existing building to renovate.  Others are forced to build new. But most all of us want to stay located in the heart of our communities," said Candace Vannasdale, HUB General Manager, who oversaw the project. 
North Carolina
North Carolina has seen another record-setting year in the economic development space with public power communities at the heart of the activity, noted Brenda Daniels, Manager of Economic and Community Development at ElectriCities of N.C.
In May 2021, White River Marine Group, LLC, a manufacturer of recreational boats, opened a manufacturing facility in Craven County, with a target of 500 jobs. The company anticipates a $34 million investment in New Bern, a public power community.
Also announced this May, JELD-WEN Holding, Inc., a manufacturer of windows and doors, will create 235 jobs in Iredell County, N.C. The company will invest $7.9 million in Statesville, a public power community, to establish a new production facility for VPI Quality Windows.
Meanwhile, several ElectriCities members are now offering co-working spaces including the North Carolina Public Power communities of Apex, Louisburg, Morganton, and Wake Forest. These projects have proven wildly successful, with many of the new spaces already at capacity, said Daniels.
Daniels and her team of economic development experts support ElectriCities members by providing a number of services to public power communities including feasibility studies, strategic economic development plans, Smart Site certifications, grant programs, and more.  
ElectriCities was also named "Top Utility" in the U.S. by Business Facilities Magazine and North Carolina is also Business Facilities' 2020 State of the Year, which Daniels said are "two huge accomplishments that would not be made possible without the hard work of our member communities across the state." 
Alabama
Elsewhere in the Southeast, Sheffield, Ala., is implementing a Community Centered Growth Pilot Program in its downtown area, noted Steve Hargrove, General Manager of Sheffield Utilities.
He said community centered growth targets community-based small businesses in economically distressed areas. A pilot program offered by Sheffield Utilities and the Tennessee Valley Authority is designed to attract sustainable businesses and stimulate "existing small businesses in our community through energy efficiency investments and resources," he said. 
He listed pilot focus areas as follows:
Invigorate: When margins are slim, energy-efficient technologies enable hardworking small businesses to save money.
Invest: Breathing new life into vacant buildings through energy technologies can attract valuable businesses to otherwise neglected communities.
Inform: Providing busy entrepreneurs with a central source to obtain valuable business resources and tools helps them thrive.
Technologies and incentive opportunities include:
Ultraviolet Germicidal Irradiation (UVGI). Installing UVGI can give tenants piece of mind knowing airflow is being continuously disinfected;
Energy Efficient Controls & Lighting. Touch controls eliminate the need for physical touch to operate technologies while also saving tenants money by using less electricity; 
Security Lighting. Improving outdoor lighting provides an added sense of security by illuminating previously dark spaces and reducing their associated risks; and 
Revitalization. Upgrading existing spaces attracts sustainable businesses such as medical facilities, financial institutions, grocery stores, etc. 
The pilot program began in January 2021 by recruiting participants based on building features and location.  In March, assessment of selected buildings began to determine priority of technologies and extent of revitalization projects.  In April, vendors were chosen to complete upgrades.  From May through September, the city will begin installing upgrades, capture lessons learned and best practices to inform future programs.
Wisconsin
In the Upper Midwest, River Falls Municipal Electric Utility "firmly believes in supporting economic development for several reasons," said Kevin Westhuis, Utility Director, City of River Falls Municipal Utilities.
"One, as our commercial and large customer base grows, it is a net positive for our residential customers as increased revenues can have a stabilizing effect on rates. Two, as a Municipal Utility, we not only have a direct interest in the economic health of our community, but can actually effect it positively with deliberate action," he said. "Jobs and opportunities are key factors in a vibrant town or city; we recognize it and support it. Thirdly, and one of the reasons "Municipal Utility" is such an advantage is: we can reflect our local community's values. Health (both physical and economic), safety, and environmental stewardship are three of many values that we actively support as River Falls Municipal Electric Utility."
Illinois
In Illinois, the City of Rock Falls has also been active on the economic development front.
Robbin Blackert, City Administrator, City of Rock Falls, highlighted the city's fiber to the home project. "When COVID hit, we became the golden child because our schools could handle the virtual learning demands – and so could all the work-from-home employees. We ended up selling our backbone infrastructure to a private company, who will have the town 80% done by year-end." The city still benefits through franchise fees.
Blackert also noted that the city previously took involuntary possession of the Reliant Fastener property, an abandoned manufacturing plant for industrial and automobile fasteners, which made it eligible for federal EPA clean-up funding.  Demolition of 30 structures and road construction began in 2011. The location is adjacent to the busiest intersection in Whiteside County, Ill. The road project had a huge economic impact to the city, with 40 permanent jobs, $150,000 in property taxes, $120,000 annually in hotel/motel tax, and $80,000 annually in electric, sewer & water fees. The city expects 120 additional permanent jobs and $200,000 additional in utility fees. The brownsfield redevelopment includes a new community park complete with an amphitheater and hotel.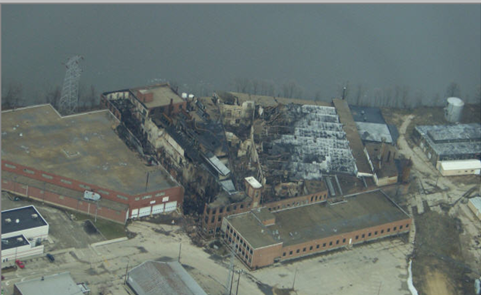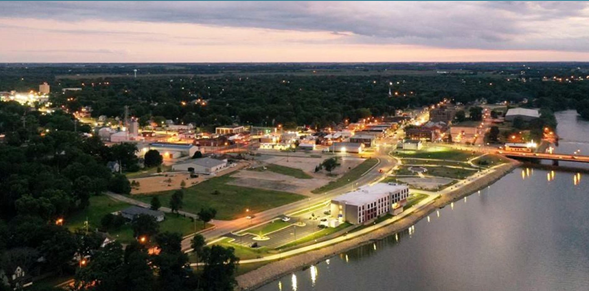 Utah
Looking at a different part of the country, Monroe City, Utah, has completed a number of economic development projects, noted Monroe City Council Member Erica Sirrine.
The city added a road access to the city's Hot Springs for citizens to have easier access; grated Canyon View Landing Park and hauled in road base for a parking area for paragliders; installed sprinkler system and hydroseeding to the Canyon View Landing Park for a grass runway for paragliders; and is currently installing a restroom at the Canyon View Landing Park
Monroe City is a member of Utah Associated Municipal Power Systems (UAMPS).
Tomorrow, Part 2 of our series continues with efforts small towns are undertaking to attract and keep hometown talent at home – and the significant roles public power utilities play in achieving that goal.