Ribbon cutting held for new Guam Power Authority utility-scale battery energy storage system
by Paul Ciampoli
APPA News Director
May 18, 2021
Officials from Guam's Consolidated Commission on Utilities and Guam Power Authority (GPA) on May 14 cut a ceremonial ribbon to mark GPA bringing a utility-scale battery energy storage system (BESS) onto Guam's island-wide power grid.
Officials participating in the ribbon cutting included GPA General Manager John M. Benavente, P.E., Consolidated Commission on Utilities Commissioner Pedro Roy Martinez, Lt. Governor Joshua Tenorio, Governor Lou Leon Guerrero, Consolidated Commission on Utilities Chairman Joey Duenas; Senator Clynt Ridgell; Guam Public Utilities Commission Chairman Jeffrey Johnson, GPA ESS Project Manager Lorraine Shinohara, P.E., GPA Assistant General Manager Engineering and Technical Services John J. Cruz, Jr., P.E. and Guam Public Utilities Commission Chief Administrative Law Judge Frederick Horecky.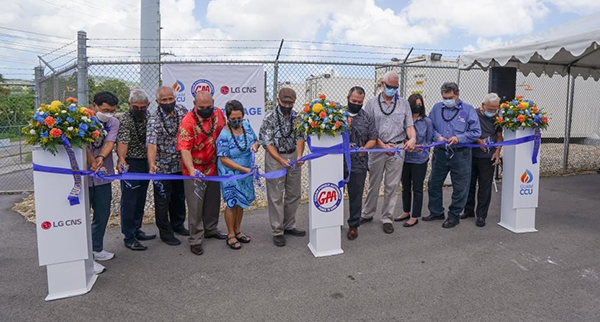 Fully operational on March 1, 2021, the project was designed and constructed by LG CNS. The system is comprised of two sites. One site is 24 megawatts (MW)/6 megawatt hours (MWh) in size, while the second site is 16 MW/16 MWh in size.
A video that provides an overview of the BESS can be viewed here.
GPA is on-track to achieve a 50% renewable energy mix by 2030 and a mandated 100% renewable energy mix by 2045.
The American Public Power Association offers a Public Power Energy Storage Tracker for association members that summarizes energy storage projects undertaken by members that are currently online.
In honor of Asian American and Pacific Islander (API) Heritage Month – commemorated each May – the American Public Power Association's Public Power Current newsletter recently spotlighted the leadership roles our API colleagues have at public power utilities across the United States and at our U.S. territories in the Western Pacific. We kicked off our coverage by sharing updates from Guam.