Rebates From Anaheim Public Utilities Help School District With EV Charging Infrastructure
by Paul Ciampoli
APPA News Director
August 25, 2021
The Anaheim Elementary School District in California recently dedicated four new electric school buses along with 14 electric vehicle (EV) chargers at its district office. Four additional buses are expected to arrive later this year.
The buses and a portion of the chargers were funded through a grant from the California Energy Commission and rebates from Anaheim Public Utilities assisted with EV charging infrastructure.
Replacing diesel buses with electric buses is an important goal for the school district, which serves 18,000 students, due to its many benefits – slashing gas emissions by up to 54,000 pounds per bus a year, significantly improving air quality inside and outside of the bus, and reducing operation and maintenance costs by 60%.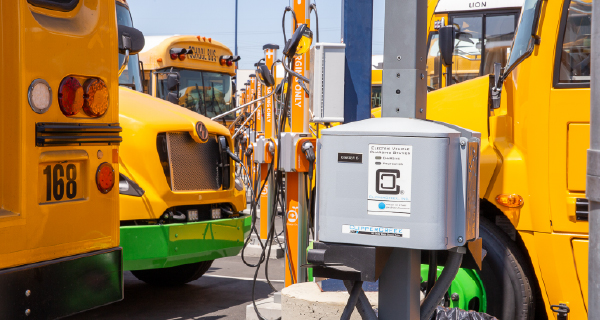 The dedication event, which took place in July, was hosted by the school district and included school board trustees, city officials, and state agencies.
Electric buses are part of a larger partnership with Anaheim Public Utilities. Two campuses have solar shade parking structures that provides renewable energy to the local grid. The school district has expressed interest in pursuing additional solar projects.
To learn more about public power utilities and bus electrification, click here.