Ditto Urges Members To Share Supply Chain Challenges, Details APPA Efforts To Address Issue
by Paul Ciampoli
APPA News Director
June 13, 2022
Joy Ditto, President and CEO of the American Public Power Association (APPA), on June 13 urged member utilities to share their supply chain challenges with APPA so that the trade group can relay details on these challenges to federal partners and discuss how critical burdens on the sector can be alleviated.
"Thanks to your responses to our surveys and other outreach, we already know that transformers are extremely constrained," she said in her remarks at APPA's National Conference in Nashville, Tenn.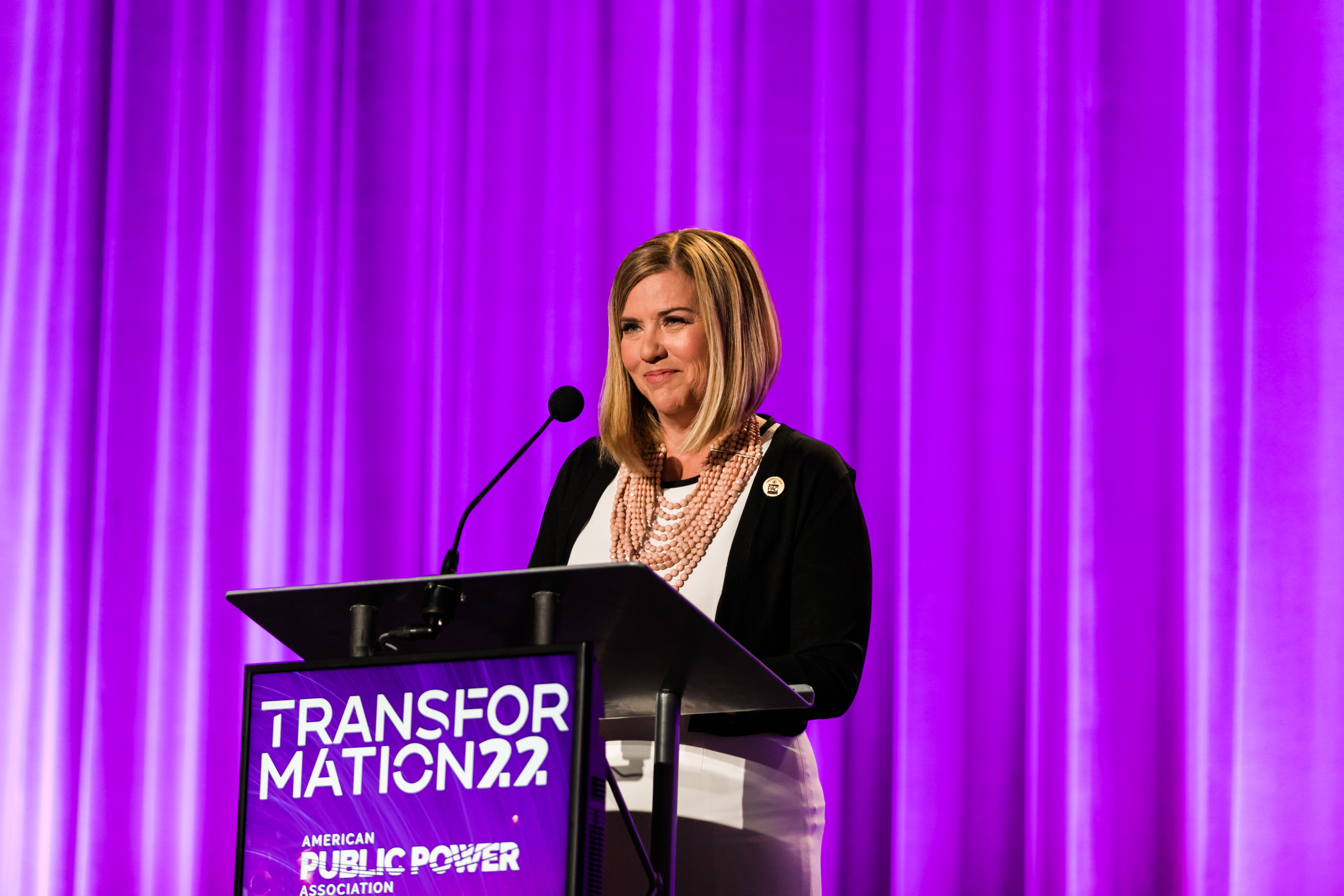 APPA is proactively taking steps to address supply chain challenges.
"We have done several things from our end to help," Ditto said, noting that APPA recently asked the Department of Energy for a temporary waiver from the 2016 transformer efficiency standard to help spur faster manufacturing processes.
In addition, APPA rolled out an additional feature to APPA's eReliability Tracker that is available to all public power utilities and allows for voluntary equipment sharing by matching systems with the same distribution voltages.
"We are relaying to the federal government what the challenges are and working with manufacturers to better understand and" alleviate constraints, Ditto said.
"This conversation will become more formalized with a tiger team being formed between the electric sector and the Department of Energy, with transformer manufacturers and other manufacturers included as well."
This tiger team is under the auspices of the Electricity Subsector Coordinating Council, led by the various electricity trades and select CEOs from the industry, including several from public power. 
"We have also sent letters to the congressional energy committees on the transformer constraint," Ditto said.
Cyber Security
Meanwhile, APPA and the electric sector are keeping cybersecurity front and center in 2022, "as we have been for many years."
She noted that public power utilities have the opportunity to engage in information sharing, cyber mutual aid and more.
"The Infrastructure Act includes $2 billion for cybersecurity and there is $250 million of that $2 billion earmarked for technical assistance and support specifically for municipal and rural utilities."
Tax-Based Incentives
APPA also continues to fight for tax-based incentives for renewable energy, including wind and solar, to be expanded to allow for nonprofit electric utilities to receive comparable financial incentives in directly owning these projects.
There appears to be bipartisan support for extending such energy credits, including a refundable direct pay credit, she said.
Natural Gas
She pointed out that public power's transition to cleaner forms of energy is challenged by the interdependencies inherent to the industry. "Unfortunately, sometimes we can't work on challenges that stem from these dependencies until people see the true need."
An example of this was last year's Winter Storm Uri.
"APPA had outlined some issues with increased reliance on natural gas for electricity production back in 2010, but it wasn't until the storm triggered some of the worst-case scenarios that people started to focus on some of the policy solutions we had previously put forth," Ditto said.
"We've made some progress in this area, but we still need to work toward getting assurances in the gas market via policy-based solutions. Rising natural gas prices over the last several months are only exacerbated by infrastructure siting barriers and contradictory policies that delay permitting."
Light Up Navajo
Public power utilities continue to work on connecting families to the grid through the Light Up Navajo initiative in partnership with the Navajo Tribal Utility Authority.
"Having visited the Navajo Nation for the kick-off of this year's Light Up Navajo III event in April, I felt the gratitude for what our shared efforts could produce — how much of a difference electricity means to people's lives shines through in the testimonials from the volunteer crews and the families that newly received power to their homes," she said.