APPA President And CEO Joy Ditto Receives Association Leadership Award
by Paul Ciampoli
APPA News Director
March 7, 2022
Joy Ditto, President and CEO of the American Public Power Association (APPA), on March 2 received an Association Leadership Award from DCA Live.
"It is an incredible honor to be recognized by DCA Live through this award," said Ditto, who assumed the role of president and CEO of APPA in January 2020.
"My goal over the past two years has been to enable APPA to thrive, even under uncertain and difficult circumstances, drawing inspiration from the hundreds of amazing public power leaders with whom I am grateful to work and from my dedicated and hardworking staff," she said.
Prior to being named APPA President and CEO, Ditto was the president and CEO of the Utilities Technology Council, a global trade association representing electric, gas, and water utilities on their mission-critical information and communications technologies.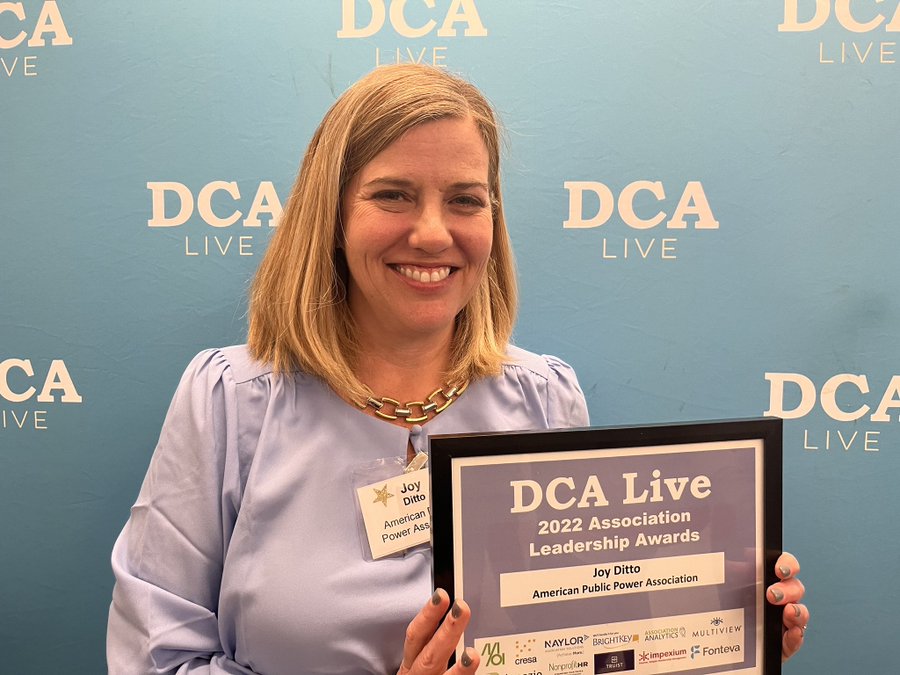 Before joining UTC, she was with APPA for 15 years, rounding out her tenure as the senior vice president for legislative and political affairs.
Since 2014, DCA Live has hosted live and virtual events featuring the fastest growing companies and most dynamic professionals in the Washington, D.C., region's legal, association and nonprofit, entrepreneur, federal tech, real estate and corporate communities.
The complete list of 2022 DCA Live Association Leadership Awardees is available here.